New Move in Phagan Case by Solicitor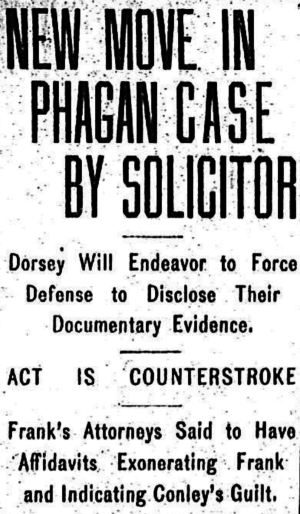 The Atlanta Georgian
Sunday, July 6, 1913
Dorsey Will Endeavor to Force Defense to Disclose Their Documentary Evidence.
ACT IS COUNTERSTROKE
Frank's Attorneys Said to Have Affidavits Exonerating Frank and Indicating Conley's Guilt.
A sensational turn in the Phagan murder mystery, according to one of the attorneys for the defense, will develop next week when Solicitor General Hugh M. Dorsey issues a subpena duces tecum on Attorneys Luther Z. Rosser and Reuben Arnold, citing them to produce all the affidavits they have secured that bear on the crime.
The movement is in the nature of a counterstroke to block the pending subpenas duces tecum filed by the defense, citing the State to produce all the affidavits that have been secured.
The defense strongly maintains that it will win its point and that the prosecution will suffer. The attorneys say that the Constitution of the State clearly outlines the action of the court in such matters—"that the defendant is entitled to be faced with all the evidence against him"—while the prosecution will labor under the handicap that "a defendant is innocent until he is proven guilty."
Dorsey Is Silent.
While no announcement would be made by Solicitor Dorsey relative to the contemplated subpenas duces tecum, it was intimated by him that such action might be taken at an early date, and that when it was the defense and the prosecution would lock horns in the first decisive battle in the sensational case.
Affidavits that are sought by the defense are the three different sworn statements of the negro, Jim Conley, the affidavit given by the negro cook at the Frank home, Minola McKnight, the Formby affidavit and the affidavit of Monteen Stover, the girl who stated that she entered Frank's office at a time when he said he was there, and found the office deserted.
The State will seek to obtain affidavits contradicting their theory and placing the crime on the negro sweeper, Jim Conley. These affidavits are said to deal principally with the time different witnesses entered and left the factory April 26, the most vital question in the trial.
Affidavits of Defense.
The defense is said to be in possession of affidavits that show Monteen Stover entered and departed from the factory before Mary Phagan's car reached the heart of the city; that the negro Jim Conley entered the factory earlier in the day than he said he did, and that he, instead of the indicted pencil factory superintendent, committed the murder, because the superintendent left the factory at least ten minutes before Conley said he helped him dispose of the body, and that the Formby affidavit, a one-time sensational bit of evidence substantiating the defense, was given by the woman at the behest of the police detectives without regard for its accuracy, and that Mrs. Formby has since admitted that she never knew Leo M. Frank or heard of him until he was held as a suspect in connection with the murder.