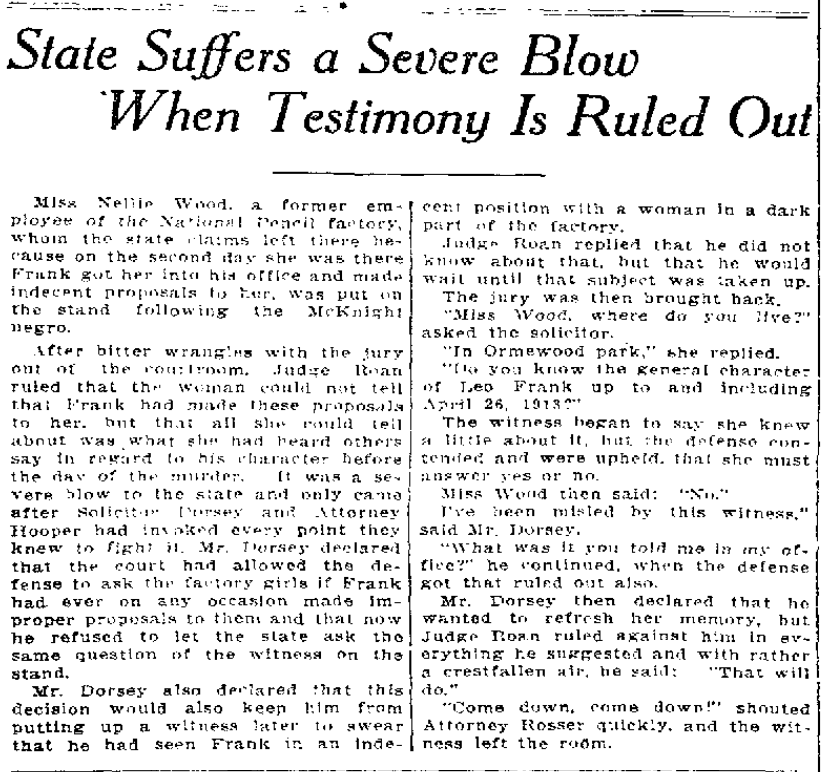 State Suffers a Severe Blow When Testimony Is Ruled Out
Atlanta Constitution
Wednesday, August 20th, 1913
Miss Nellie Wood, a former employee of the National Pencil factory, whom the state claims left there because on the second day she was there when Leo Frank got her into his office and made indecent proposals to her, was put on the stand following the McKnight negro.
After bitter wrangles with the jury out of the courtroom, Judge Roan ruled that the woman could not tell that Frank had made these proposals to her, but that all she could tell about was what she had heard others say in regard to his character before the day of the murder. It was a severe blow to the state and only came after Solicitor Dorsey and Attorney Hooper bad Invoked every point they knew to fight HH. Mr. Dorsey declared that the court had allowed the defense to ask the factory girls If Frank had ever on any occasion made Improper proposals to them and that now he refused to let the state ask the same question of the witness on the stand.
Mr. Dorsey also declared that this decision would also keep him from putting up a witness later lo swear that he had seen Frank in an Indecent position with a woman in a dark part of the factory.
Judge Roan replied that he did not know about that, but that he would wait until that subject was taken up.
The jury was then brought back.
"Miss Wood, where do you live?" asked the solicitor.
"In Ormewood park," she replied.
"Do you know the general character of Leo Frank up to and including April 26, 1913?"
The witness began to say she knew a little about it, but the defense contended and were upheld, that she must answer yes or no.
Miss Wood then said: "No."
"I've been misled by this witness," said Mr. Dorsey.
"What was it you told me in my office?" he continued, when the defense got that ruled out also. Mr. Dorsey then declared that he wanted to refresh her memory, but Judge Roan ruled against him in everything he suggested and with rather a crestfallen air, he said: "That will' do."
"Come down, come down!" shouted Attorney Rosser quickly, and the witness left the room.